Why Iroko Wood is Great for Garden Gates
The Benefits of Iroko Wood for Garden Gates
This incredible material is sourced in the West Coast of Africa, its strength making it perfect for outdoor use where greater durability is required. Iroko wood is mainly used in boat-building, flooring, furniture and outdoor gates because the density and strength of the wood enables it to withstand even the worst weather conditions.
Such a material is more than equipped to handle the daily wear and tear of British weather and heavy use. This is what makes Iroko wood the perfect choice for your driveway gates, no matter how windy or rainy, the bespoke wooden gate will stand the test of time!
The quality of the wood is never compromised, adorning your home with these secure and stylish gates is a vital investment into your security, privacy and peace of mind.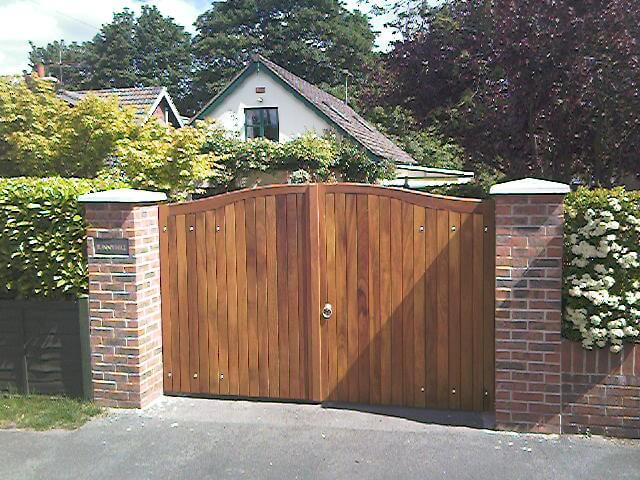 The Main Properties of Iroko Wood
The beauty of Iroko wood gates is the strength and colour of the interlocked grain. This resilient structure makes the wood a perfect building material for protecting your driveway or garden.
Iroko wood gates help a homeowner to achieve a traditional aesthetic without sacrificing the durability of the product. It looks elegant while still being incredibly difficult to damage. From a security standpoint, they are the perfect solution to any concerns over potential break ins, an increasing concern for homeowners.
The grain of the Iroko wood requires an advanced level of craftsmanship to successfully manipulate the hardy material and craft a beautiful, bespoke gate. It also has a wonderfully rich colour, which is preserved with a base coat of Teak Oil with UV filters and regular oiling while they are in use to maintain the golden hue.
Investing in Gates for your Property
Making the choice to install these beautiful and durable gates to your property offers a world of benefits. Not only do you achieve a traditional aesthetic, but you can grant an additional layer of security to your home. Gates are great at warning off burglars and preventing unwanted visitors getting too close to your house.
The design can be tailored to your specific requirements. Not just the size and shape but the design and desired look of your gates can be hand crafted to match the aesthetic of your house to keep a cohesive design across your property from the gate to the front door. The crafting of these gates depends on what you are looking for in your home: understated or outstanding, they can fit in with other gates on your road or stand out from the crowd!
Another important thing to bear in mind is that you're making an investment in your property, the extra level of security will add value for a buyer, not to mention the increased attraction from the pavement.
The investment into your home's safety and privacy is one of longevity with this product, they are built to last and ensure your home's protection for years to come. If you'd like to find out more about wooden gates for your property, please call us or fill in our contact form.