How To Care For Your Wooden Gate
Now, a wooden gate is a lovely thing that serves a practical purpose as well as adds a nice design element to a garden. But it doesn't matter if it's a small gate that leads through the back of your front garden or driveway gates, all wooden gates need appropriate aftercare so that they can look their best for longer. We recommend stains for softwood gates and oil for hardwood gates.
Stain And Oil
The Staining Process
By using a brush, you can stain your gate with the colour of your choice. You might find that the colour is too dark. If this is the case, you might get away with making it lighter by rubbing over a white spirit or cellulose thinners. Sometimes you may come across sanding marks. If this happens, rub over the area with sandpaper, making sure to follow the grain, and the mark should be removed. Be very careful using these kinds of products, avoid inhalation and contact with sources of heat.
The Oil Process
The oil mixture should then be applied liberally and allowed to soak into the gate. If the gate is wet, then this step should be avoided until it has dried out. It's also a good idea to insert something below the gate to catch any drips. After the first coat of oil you should apply a second and third coat, and if the gate looks like it will need more don't be afraid to continue the process until the gate has all it needs to soak up and absorb the oil. Remember that oil should not be used in a confined space. It's flammable, so watch out for oil-soaked clothes and brushes and do not leave them near any sources of heat.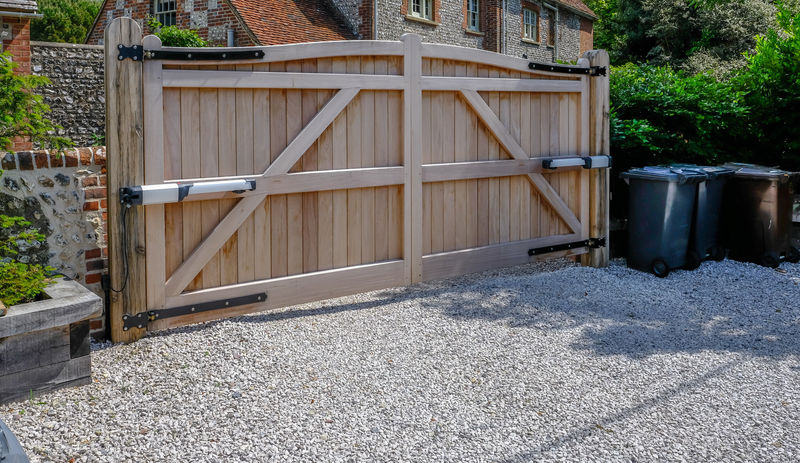 Watch The Gates
Now, you should keep a careful eye on the gates. Hopefully, if the process has worked, you should have made them waterproof thanks to the oil. But if the gate looks dry just apply another coat of oil. A waterproofed gate will help protect it from heavy rainfall and keep it from damage for longer.You should add coats to the gates as and when they require it, but in general, experts would recommend at the very least to do it twice a year.
What To Avoid
You should avoid fencing paints and water-based finishes as they normally don't work on smooth-planed timber.Remember that wooden garden fencing requires extra care as wood is a natural product and can be affected by weather conditions. Sometimes a gate can shrink or swell slightly with the weather and cracks can appear along the grain of the wood. This is not unusual and as long as you follow a good set of aftercare tips your wooden gate should remain in top condition.Give us a call on 01844 342036 or please feel free to fill in the enquiry form on the contact page today.