The Security Benefits of Installing a Driveway Gate
Installing a high-quality wooden driveway gate is an excellent way to give your home privacy. A driveway gate is a stylish accessory that will transform anyone's house. At Crocketts Gates, we offer bespoke driveway gates made from quality materials. Another massive benefit of installing a driveway gate is the added security.Here is how wooden gates and driveway gates can add security to your home:
Driveway Gate Security Benefits
Safety & Convenience
The most obvious security benefit of a driveway gate is you control who you let into your property. You have complete control over who can knock on your door and walk on your driveway. This way you avoid people knocking on your door who you don't want to. As well as prevent the threat of burglars being able to get close to your property.
Privacy
As well as security, having control over who can access your property gives you ultimate privacy. No one can get close to your home and look in through your windows. People also cannot attempt to get into your garden or even potentially try to break inside. A driveway gate also ensures you have privacy from intrusive visitors knocking on your door.
Safety
In addition to keeping people out, a driveway gate will allow you to ensure young children do not wander away when playing outside. You can also make sure pets stay in an area where you can look after them. A driveway gate also protects any vehicles that you park in front of your house. The ultimate benefit of a driveway gate is that they give you peace of mind of you and your family's safety.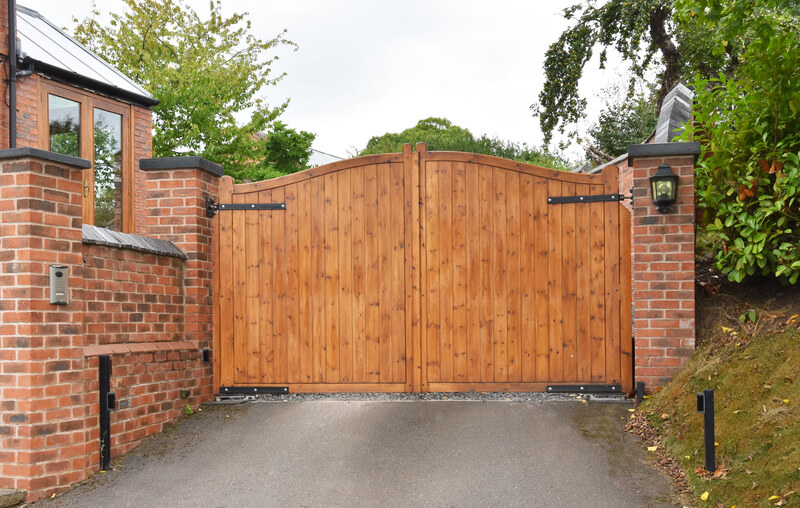 Types of Driveway Gates
At Crocketts Gates, we offer a variety of driveway gates, in a range of styles and designs. We tailor-make every gate to ensure you get the right option for you and your home. With a bespoke gate, this means they're built specifically for you, from a range of materials.
Wooden Gates
Wooden gates are a great way to add a stylish design to your home. They're a strong and durable choice that will last for years to come. Unlike other materials, wood is more versatile and can fit in with a range of home exterior designs. At Crocketts, we offer two types of wooden gates:
Hardwood Gates
At Crocketts Gates, we use two types of hardwood for our bespoke gates. These are Oak and Iroko. Both offer a unique look that could transform your home. We build our hardwood gates with the finest first grade, air-dried Oak. These hardwood gates will keep a natural look for years and you can treat your gate to change its appearance too. The most popular and more sustainable option is iroko.
Softwood Gates
We design and build our softwood gates from Scandinavian Redwood, that is responsibly sourced. We only use timber and materials that are high-quality. As well as excellent materials, we pressure treat all our gates which gives your gate an incredible, natural look.
Contact Us Today
If any of our bespoke wooden driveway gates interest you give us a call today on 01844 342036. Or please feel free to fill in the enquiry form on our contact page to find out about any of our other services.