How to Treat Hardwood Gates?
Best Tips and Tricks to Treat Gates
If you have invested in a lovely oak hardwood gate, then you are going to want to do everything you can to keep it protected. A wooden gate requires a lot more protection than certain other types of gating. Especially when faced with the unpredictable UK weather!In this blog, we will be exploring some ideas to help ensure your wooden gate remains in an incredible condition for as long as possible:
Hardwood Timber
So with a wooden gate that is made from hardwood timber, the good thing is you do not need to work hard to preserve the timber itself. Hardwood looks after itself in a way that softwood does not. Having said that, hardwood timbers will fade in colour over time. Most often they will turn a sort of silvery grey colour. We recommend you find a suitable staining or oiling product for the gate, this should help keep your gates original colour.
Avoid Linseed Oil
So what type of oil is best for hardwood gates? Firstly, a word of warning. If you come across Linseed oil this is best avoided. It takes at least two or three days per coat to dry and needs multiple layers where new wood is concerned.
On the market, there is also boiled linseed oil which only takes a day to dry. But for wooden drive gates or wooden garden gates, it is still not ideal as it does not protect the wood against outside mould. It's also best to avoid micro-porous finishes. This is because they can cause warping and twisting of the timbers. The thing with smooth planed timber is that fencing paints and other water-based finishes are generally not effective.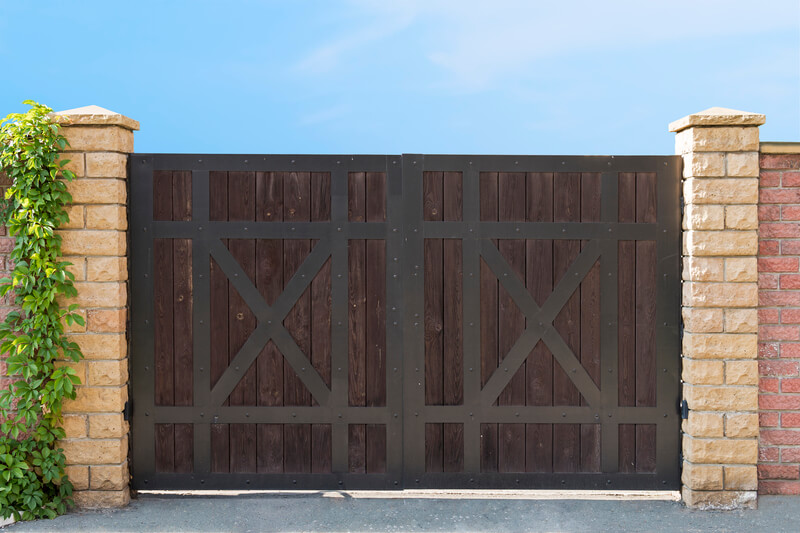 Teak Oil
Teak oil is a fast-drying oil, it dries as soon as it is exposed to the air. We use teak oil with UV filters for our iroko gates. Tung oil is another popular choice. This is a resilient option that would provide protection to hardwood gates fast. Tung oil is what we treat our oak gates with. At Crocketts Gates, we treat both types of gate before you purchase them. They will still require regular oiling, especially in the first year.
Tung oil is a good all-rounder and has a reputation for great results. The good thing is that it is waterproof and not affected by mould but fights against the effects of age and temperature change.
Overall, Tung oil should make a great choice for any driveway gates, wooden garden gates or other hardwood gates. Another option is an Osmo wood finish oil as it is available in a range of colours and naturally stains the wood. Plus it helps protect from UV rays as damage can occur during the sunny periods of Summer as well as the cold rains of winter. In general, oil-based finishes such as gloss paint are fine, but before applying you need to ensure the bottom of the wooden gate is sealed. Over time small cracks can appear so do check every year.
And a final note on the use of oils. These substances should never be used in a confined space as this is an inflammable substance. Be careful with oil-soaked cloth and brushes, taking care to not leave them near any sources of heat. To dry it you should lay the cloth out flat and not scrunch them up into a ball.
Keep Your Gate in Good Condition
Remember, to keep your wood gate in good condition it is not a case of just treating it once then leaving the gate. You need to keep the process up, recommended at least twice a year, And in general, you should carry out checks on your gate, otherwise, the harshness of the weather can damage it without you noticing-and of course that damage will just get worse if not fixed quickly. So, whether you have driveway gates, wooden garden gates or any other kind of hardwood gates hopefully you have picked up a few tips from this blog and your gates will be 'weather-ready' as a result!
Thank you for reading. We hope that our blog has been helpful. If you have any questions please don't hesitate to get in touch on 01844 342036 or alternatively head over to our contact page to fill in the online enquiry form and one of our friendly team will get back to you as soon as possible.