How a Bespoke Wooden Gate Can Improve Your Driveway
Why should I buy a wooden gate for my driveway?
You may have noticed we've already touched on a couple of reasons why you should purchase a bespoke wooden gate for your driveway, but we have so many more!
Security
When you think of security, wooden gates aren't always the first thing you may think of. However, wooden gates have shown to be a great way to increase the security of any home. A gate allows you to control who's entering and leaving your property, this reduces the risk of intruders and potential threats to your home.
Property value
A driveway gate is a great addition to any home, whilst looking elegant and keeping your home secure, it can also increase the value of your home. We recommend talking to home surveyors before purchasing to see if it will increase your property value if that's what you wish for. If you are considering moving within the next couple of years, this is a great advantage for you. It keeps you and your family safe, whilst increasing the value of your home – a win-win situation.
Privacy
Our bespoke wooden gates can provide that some highly sought after level of privacy. Depending on which style of gate you opt for, our gates can reduce the view into your property from the street. If you have a busy road or pathway outside your home this could be a great option for you, it will stop any nosy neighbours or passers-by peering in.
Easy to maintain
Softwood gates are easy to maintain – simple treatments every year or two will keep your gates looking as good as new. If you wanted to change up the look of the gate in the future, they can also easily be painted, just pick a colour and grab a brush. Stain that's made for wood can help keep it protected against water and UV damage.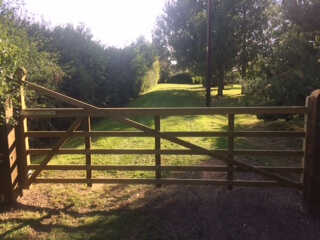 Benefits of bespoke gates
Our bespoke wooden gates are perfect for any driveway, we offer many different styles of wooden gates which we will make to your chosen specifications. Each and every gate is made using either softwood or hardwood, producing each gate at the highest of standards by our highly skilled team.
There's no need to worry about those awkward spaces, with made-to-measure gates we can fix all those little spaces. One of the main reasons in which one would purchase a wooden gate for their driveway is the look, they never seem to fall out of fashion. With so many styles available, each one offers something unique compared to the last.
If you have any questions and enquiries surrounding our bespoke wooden gates, feel free to get in touch. Thank you for reading this month's blog, if you want to read more like this head over to our news page.