What is a Hardwood Gate? | How Can They Benefit Me?
Wooden gates represent one of the most reliable ways to increase the safety and privacy of your home. These gates can be designed according to your preferences, style, and the appearance of your home – if you want to keep the stylish look of your home, wooden gates are a great choice.
Why choose a wooden gate?
Wood is often used because it's such as durable material, thanks to the resistant substances and fibres it consists of. This makes it the perfect material for things like boats, furniture, houses, flooring, fences, gates, and much more. Wooden gates can easily add class and sophistication to your home and, consequently, increase the value and curb appeal of your property. In addition, installing a gate at home adds to the privacy and safety of the whole family.No matter where you need your wooden gate installed or what the purpose is for it's easy to find something that will suit your requirements due to wooden gates being very versatile. Wooden gates can be made to fit openings of any shape or size and can be built specifically to enhance security, maintain privacy and to create an attractive but professional appearance.
Make sure you have the right combination of amenities and security you need for your home by choosing a wooden gate. The colour and texture of the wood should be treated in the same way as the other woodwork on the exterior of the property and to complement the facade of the house.
A large wooden gate is perfect for driveways, giving a touch of sophistication as well as privacy and security to your property. A large hardwood gate will deter thieves, whilst creating a grand entrance for guests. However, deciding on a wooden gate may not be as easy as you think, there are a number of factors that you need to take into account, such as the type of wood and the size and style of the gate.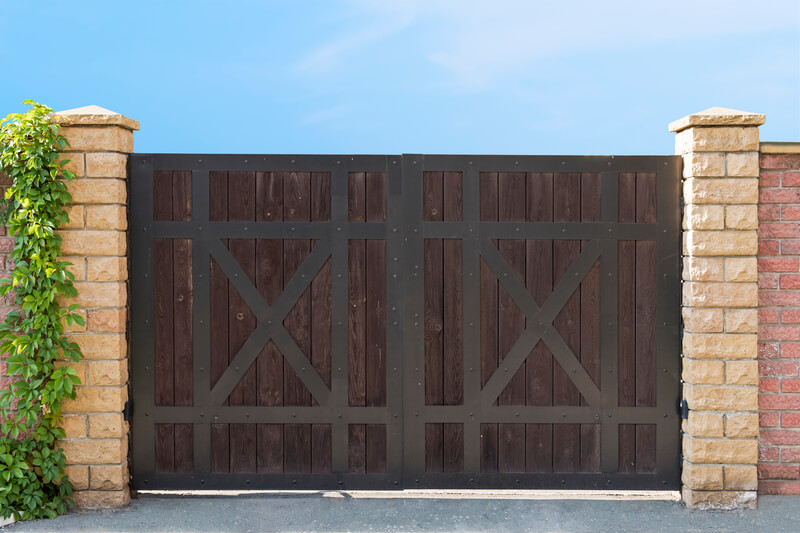 Type of wood
Two types of wood that are usually used for crafting gates are softwood and hardwood. If you're not sure on which would be the best type for you, feel free to get in touch, we'd be happy to advise.
The gate size
Larger driveways will require gates designed specifically for wider spans such as curved heel entrance gates. Wider gates are created from thicker timbers and frames which prevents deformation or sagging of the gate. Hardwood gates can be custom designed and made to meet the exact specifications you require. If you need any more help or advice regarding quality wooden gates, please feel free to get in touch, we'd be happy to help.