How to Choose the Perfect Driveway Gate
First impressions count and that's true. A quality and well-designed timber driveway gate not only brings a warm feel, gives a real curb appeal to your home exterior, but also blends well with most home style or architecture. Here at Crocketts Gates, we specialise in handmade bespoke wooden gates and doors to your specific requirements. And this month, we are going to share some of our top tips on choosing the perfect driveway gate for your property.
Driveway gates provide security and privacy for your property, choosing the right driveway gates can protect and define the look of your property as well as enhance your home appearance, uplift the tired-looking façade.
Decide on the types of driveway gate
There are many things to consider when choosing your driveway entrance gate. Choosing the right materials, driveway gate styles, functionalities and even the accessories, can influence the final finish of the driveway gate. However, this can sometimes make it difficult to make your decision.
Take time to think about how your gate style will fit in with the rest of your home and your lifestyle, whether it is a modern look with a traditional twist such as a bespoke hardwood driveway gate, or a grand entrance such as something more understated like the steel or aluminium gate? Do you prefer an automated gate for easy access for cars? Or perhaps you may like a sliding driveway gate or a swinging style? Whatever your choice is, take your time to consider.
Types of material for the driveway gate
Consider what sort of material to construct the driveway gate that best suited to your home. Is it primarily for security to keep people and pets in and out, or is it for privacy? Think about how it will blend naturally with the exterior of your home or the surrounding environment. A timber driveway gate framed by natural stone pillars will offer a very different feel than if they were installed hinged to a timber panelling fence.
There are 4 common materials for driveway gate:
1. Aluminium
Aluminium gates tend to have a clean and modern look. It comes in a variety of colours; they are cost-effective and low maintenance.
2. Steel
Steel gates are a more durable option than aluminium and it is hard to break into. One drawback for steel gates is they are prone to rust and will corrode quickly unless they are treated properly.
3. Wrought Iron
Wrought iron gates are available in traditional and modern design; they are great for people who like the ornamental gate style.
4. Timber
Timber gates are our favourite of choice; a high quality bespoke wooden gate is truly beautiful and can really transform your home exterior feel. We love timber gates and doors; we have been crafting a wide range of hand-made wooden products for clients for over 2 decades, we pride ourselves on offering the finest timber products to suit our clients specific requirements.
Timber gates offer a natural and rich appearance; it gives a warm and welcoming feel to your home. It's suitable for most residential properties and it will blend well for most environments. There are many types of timber used to manufacture a wooden driveway gate. If you like hardwood, we recommend Iroko and Oak as they are strong and durable. Softwood such as cedar, redwood, ash, birch, pine, and cherry are more cost-effective but need treatment to protect them from the weather.
Timber driveway gate designs and styles
Timber Driveway gates can be customised in multiple shapes and designs. The most common residential driveway gates are designed with vertical pickets within a frame. Here at Crocketts Gates, we design and manufacture a variety of styles to suit your needs and personal preferences. The style of the gate you choose will determine the type of wood we use to make the product as each type of wood has the element suitable for different types of products.
We offer the following style of wooden gates and all our solid wooden gates are made bespoke & to the highest standard:
Oakley Style: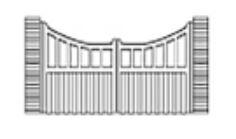 Asket Style: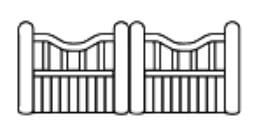 Caprice Style: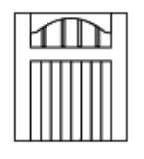 Chelsea Style: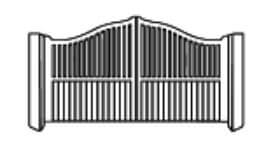 Chiltern Style: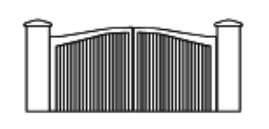 Curved Heel Style:
Easington Style: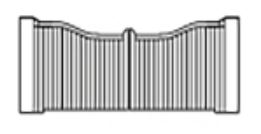 Get in touch today with your enquiry!
If you are interested in bespoke wooden driveway gate but unsure whether to choose between a hardwood gate & a softwood gate or find it hard to choose the right type of driveway gates for your property, please talk to us and we are always happy to assist you in picking the right type of timber gate. Crocketts Gates has been making bespoke timber gates for driveway, garden or wooden garage door for our customers since 2005. We manufacture and supply a range of quality gates to suit your needs – from wooden gates; Iroko, hardwood, softwood, oak, entrance gates, garden gates, field gates, to driveway and automated gate solutions.
Get in touch today by calling 01844 342036 or alternatively send us a message with your enquiry via our online contact form.