5 Reasons Why You Should Invest In a Bespoke Wooden Garage Doors
Are you looking to invest in a bespoke wooden garage doors? Good choice! We're here to help you understand the key benefits of investing in a wooden garage door for your home. When investigating your options, the type of material used is a key decision. There is a large selection of materials in which you can choose from, and one of those is wood. Wood is a very popular choice for many, and there are many reasons why.
Why Should I Invest In Wooden Garage Doors?
Steel has been a popular material choice for garage doors for many years, this is due to its affordability. However, in recent years, wooden garage doors have been replacing metal garage doors across the nation. These wooden materials are very popular due to their durability, availability for customisation and visual appeal. Here are five reasons why you should invest in a high-quality, bespoke wooden garage door.
Customisation
Our bespoke wooden garage doors allow you to choose the design that best suits your needs and style of home. Providing you with the opportunity to choose the type of wood you wish to incorporate for your garage door. There are various designs to choose from. Customised wooden garage doors stand out in a neighbourhood and complement any home style.
Aesthetic
Wooden doors can add aesthetic value to your garage. No matter the age or style of your home, wooden garage doors can provide your home with a high-end appearance.
Natural treatments
The application of natural treatments will help to increase the stabilisation of your wooden garage door. Wood tends to bend, warp and rot, applying natural oils and specialised treatments will help to protect against such problems. Additionally, treatments applied can enhance the look of your garage door maintaining its elegance and sophistication. Treated wood is able to withstand drastic changes in temperature, perfect for the unpredictable UK weather. Wood is a sustainable and renewable natural source. Furthermore, it requires fewer products and resources to process it compared to other sources of construction materials.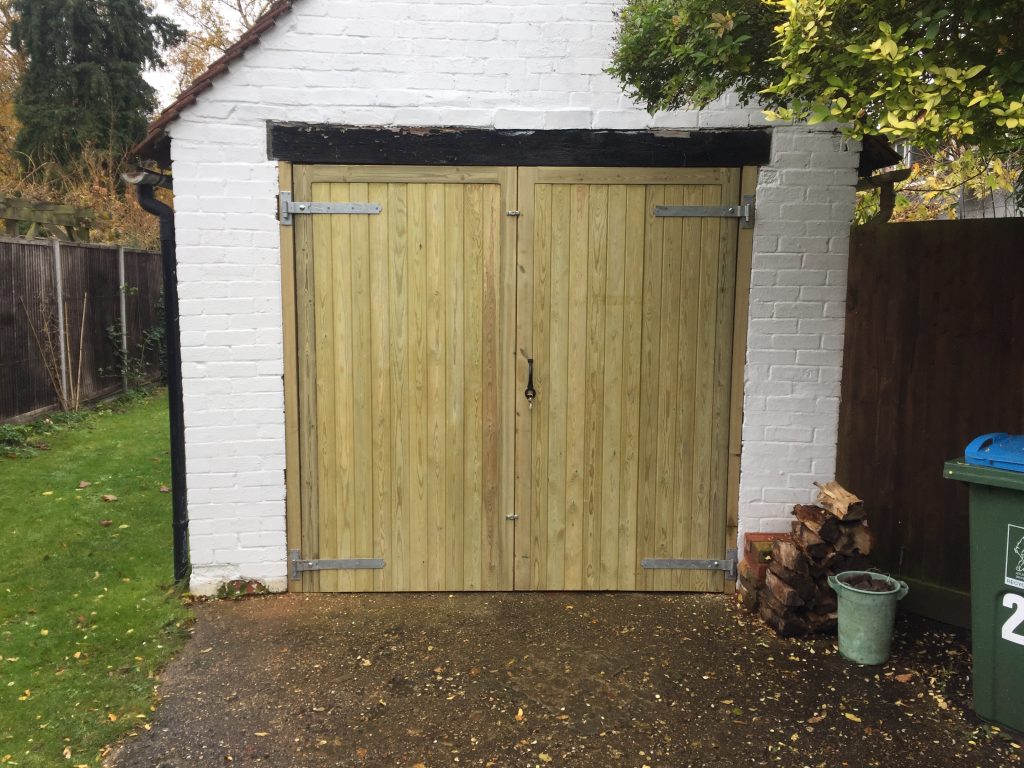 Versatility
Versatility brought by wooden garage doors is an added bonus compared to metal garage doors. This is implied in the operation of wooden doors both automatically and manually. All of our wooden garage doors are handmade and bespoke to best suit your needs and style. Why wouldn't you invest in bespoke wooden garage doors?
Decrease in noise
Wood is one of many natural soundproofing materials. A wooden garage door is convenient especially when you're based in a noise polluted environment. If you particularly live in a busy noisy street, a wooden garage door is recommended for your property – helping to keep the noise down.
With over 20 years of experience, Crocketts Gates are the place to go for all your wooden garage door needs in the Milton Keynes, Aylesbury, and Hemel Hempstead areas. Wood provides the strength, durability, and security that you need to keep your family safe and secure. If you would like to find out more about how we can help you, get in touch or call us on 01844 342036. Please don't hesitate to contact us, we cannot wait to hear from you.